Productization is the process from design development to mass production. In order to release a device to mass production, the customer must validate and approve the prototypes, test program, and all required qualification processes.
AAI specializes in services that pave the way from design to mass production. Our objective is to create the most appropriate manufacturing solution to fulfill the unique requirements of each customer and to meet market demands.
While the chip is still in the design phase, our design and manufacturing teams are already involved as they evaluate options for fabrication, assembly and testing:
We analyze fabrication processes, packaging options and test platforms.
In close collaboration with the customer, we choose the most suitable vendors - from the standpoint of technology, offerings, costs, location, and capacity.
We partner with leading industry suppliers and provide our customers with all the benefits of strong alliances with our vendors.
Standard productization process flowchart: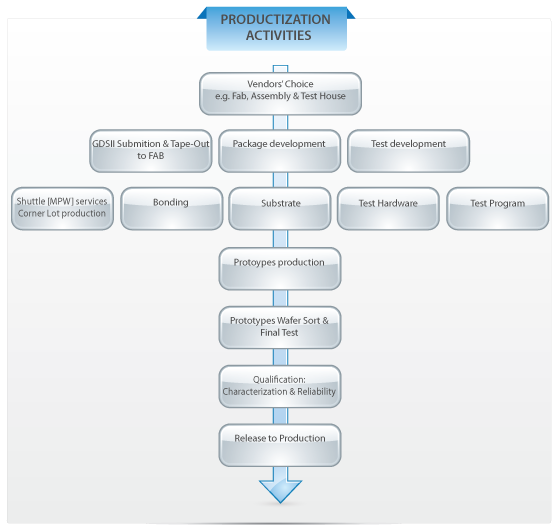 Major FAB related productization activities of AAI are depicted below:
The first stage in choosing the optimal foundry is to analyze the fabrication processes and relevant technology for each design. This requires in-depth knowledge of the foundries' offerings and a thorough understanding of the product's performance requirements. After performing a comprehensive evaluation, we present our findings to the customer, who is an integral part of the vendor choice process.
The next stages of this joint effort are to obtain quotations for NRE and wafers and to create a complete business proposal.
Once the choice of vendors is made, AAI will manage the tape-out phase, followed by manufacture of the prototype lot. Trade-off analysis of costs vs. schedule vs. risks will be performed in order to decide between full mask manufacturing or Shuttle (MPW).
Corner lot production may be required for performing device characterization and reliability tests.
We also manage wafer sort and final test program development, as well as transfer to production.
For the ASIC business model, our ASIC partners are Fujitsu Semiconductors and NXP Semiconductors.
For the COT-Plus and Turnkey Manufacturing business models, AAI partners with
TSMC
(Taiwan) and
Tower Semiconductors
(Israel).
Major Assembly and Test related productization activities of AAI are depicted below:
Assembly Related Productization Activities
Prior to making a choice of the assembly and test vendor, our engineering and production teams evaluate parameters such as technical and thermal characteristics of the package; existing and forecasted applications of the chip; estimated volumes of the production; vendor's capacity, location and overall profile, and availability for future test platforms.
Once the package type and vendor are selected, we will ensure that the bonding diagram and substrate design are created according to specification. Additionally, we will coordinate timely delivery of the tooling, prototype run and a smooth test program transfer to production.
AAI is capable of designing packages of any level of complexity. Some of the packages we have recently designed for our customers were:
QFP: up to 256 lead count
BGA: up to 1069 ball count
Flip Chip BGA: up to 1413 ball count
CSP
Our major assembly and test vendors are Unisem UK, China and Malaysia; ASE/ISE Group Europe, USA and Taiwan, and Amkor/Unitive USA and Korea.
Test Related Productization Activities
AAI provides test program development services. In collaboration with the customer, we prepare a test plan document which defines the various test modes that are required to fully test the device with high coverage andimpact on the design itself.
Our engineering team has extensive knowledge of all leading test platforms (such as Teradyne, Agilent, Credence etc.) and is capable of selecting the best platform to meet the requirements of our customers.
We supervise the design and manufacturing of the test hardware, such as tester loadboard, sockets, and probecard for wafer sort. We collaborate with test developers on test program generation, debug, and production integration. Our objective is to make sure that the test program is robust enough to detect any possible manufacturing flaws.
AAI's manufacturing team coordinates test program transfer to the selected foundry for the wafer sort and to the chosen assembly and/or test house for the final test. Our ultimate goal is to create a solid, stable and aligned test program at the fab and test house, which will provide high coverage wafer probing and final testing.
For test development, we work with Smartest Germany, ISE California, E&M Engineering Israel and other world leading test developing houses.